Projects
Oratory School headmaster's house, Reading
9 September 2014 | By Stephen Cousins
Client: The Oratory School
Lead Contractor: Francis Construction
BIM Tools: Autodesk Revit, Bentley MicroStation
This small project for a 225 m sq new build house in the grounds of a boys' private school provided an ideal testing ground for contractor Francis Construction, which was keen to complete its first BIM-enabled project, assess the technology's performance and integrate it within the business.
Francis took on the coordinating role of Information Manager and appointed structural engineer Michael Aubrey Partnership, which it had worked with before and had several years experience in BIM, to lead the BIM team and coordinate the entire design. The client had no knowledge of BIM, but was interested to see the improvements it might bring to the quality of the end product.
The project aimed to achieve BIM Level 2, as defined by government, with a common data environment with 3D designs created in separate BIM tools with attached data. The PAS 1192-2 specification was used to organise information management during construction.
"We sat down with a team of guys we know and trust, a couple of whom had experince of BIM before, and set up targets based on PAS1192:2," explains Will Barrett, contracts director at Francis Construction. "We had a fairly basic level of information compared to a large government project, which was one of main reasons we chose this small job as a test-bed."
Michael Aubrey set out clear parameters at the start of the project on collaborative working and the open transfer of design information. It took on responsibility for planning and testing the build virtually using six different 3D models, including architectural and services models and a single federated BIM model. The federated model was built in Autodesk Revit and used for clash detection and all production information.
"It was a learning curve to understand how project information should be shared," says Barrett. "It was the architect's first BIM project and they were using Bentley Microstation, while the M&E contractor was using Revit for the first time. It was tricky working out what information was compatible with the common Industry Foundation Classes (IFC) data model and the level of detail you lose when you use that."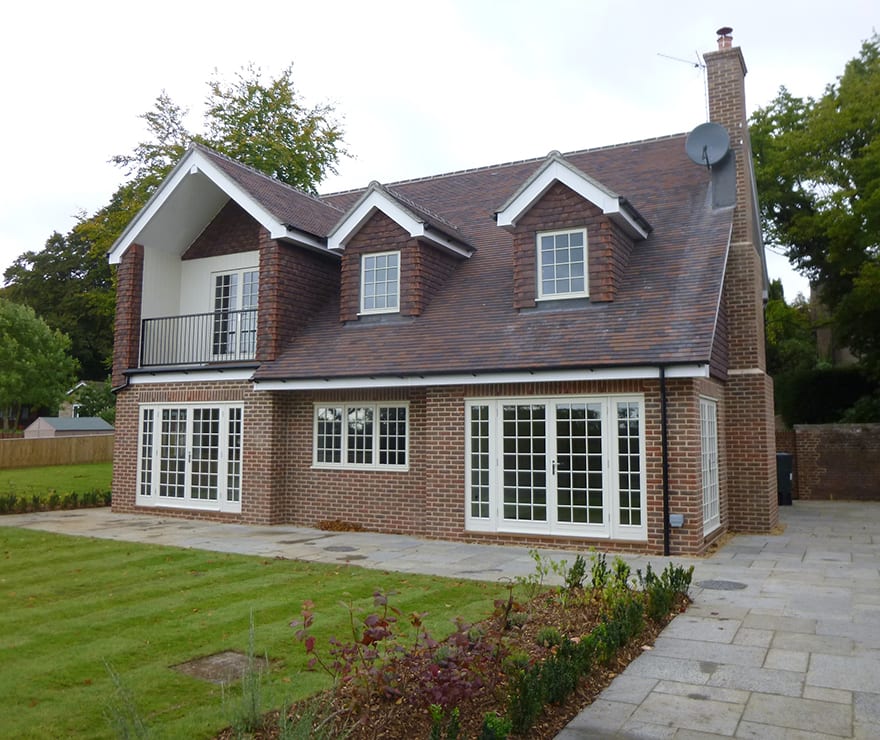 The finished house
On previous, traditionally-procured projects, Francis would typically encounter issues on site requiring redesign work. If these were significant or numerous, the build work would gradually catch up with the published design, leading to forced decisions without proper time for consideration.
However, at Oratory School, coordinating the design early on and ensuring the accuracy of information helped improve buildability and remove any design conflicts.
"Much of the detailed design was completed when the architect would normally only be only looking at a concept design," says Barrett. "This speeded up clash detection and problem solving. Any issues were flagged up early, before we went to site, so the design team had the capability and time to look at and resolve them."
One issue highlighted in BIM was the design of a pre-fabricated fireplace throat, made up of 150mm-thick concrete planks, which the federated model showed would have been impossible to install by crane through the timber frame. As a result, the fireplace was redesigned with much smaller elements that could be man handled into place more easily and safely. Instead of being confronted with the problem on site, the new design was completed and procured before work began.
3D visualisations, viewed on a computer in the site office and as A1 print outs, were used to help subcontractors understand complex interfaces and connections within the structure.
"These were probably the most looked at item on the entire project," says Barrett. "Using 2D drawings everyone has a different image in their head of how a detail looks in reality, using BIM eveyone has the same understanding. It also makes it easier to see the issues that might arise if the prescribed working method isn't followed."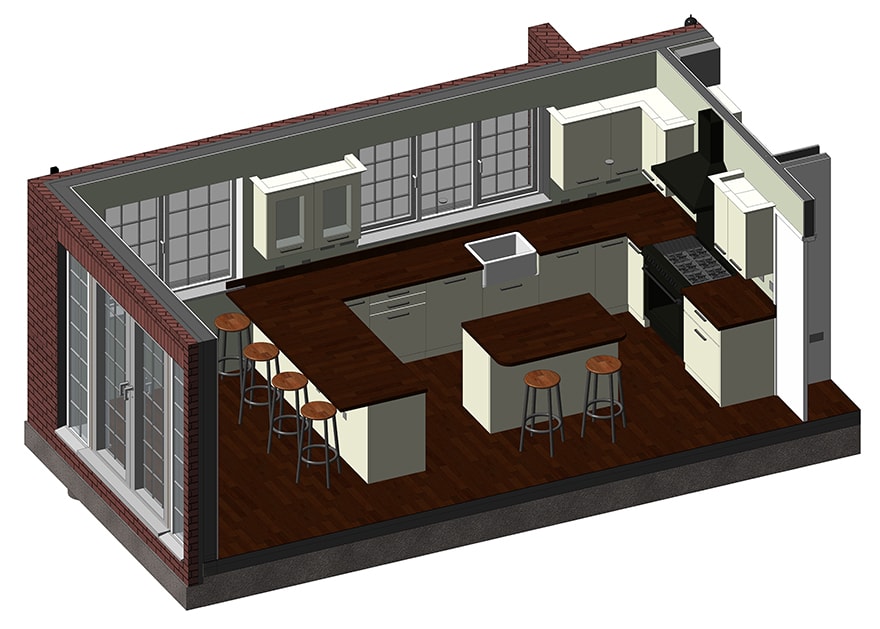 3D visualisations, viewed on a computer in the site office and as A1 print outs, were used to help subcontractors understand complex interfaces and connections within the structure
Information held in the BIM model gave the contractor greater certainty on quantities of materials, such as timber, bricks and plasterboard, which were checked against takes offs done using traditional calculations. "The quantities were all correct, which was very encouraging as this is the foundation of a lot of disputes in the industry," says Barrett.
The early completion of the design gave Francis Construction the ability to buy labour and materials at more competitive rates and ultimately helped reduce the overall cost of construction. The build was completed two weeks (13%) early and under budget, with zero defects on handover, much to the delight of everyone involved.
"There was a certain amount of scepticism about BIM to start with from the design team, the M&E and timber frame suppliers, but that switched to positivity when people realised the time and effort it would save in certain areas," says Barrett. "It was interesting to see the light bulbs suddenly come on halfway through a design team meeting, when they realised there was no need to design something independently because the design was already done and they could give it direct to the subcontractor."
Looking ahead, Francis is convinced of the benefits of BIM, but keen to refine its approach by being more specific about the level of detail held within the model.
"It has become clearer to me how different clients' FM and legacy teams would benefit from having different levels of information within the model, which we can sell to them when tendering for projects. The starting point for BIM should be level of detail required and how the client is going to use it, for example, there's no point swamping them with information if they are only going to want to maintain 40 light fittings. Here the client had no expectations or information requirements, but next time we will be more focused on what data we are including," concludes Barrett.